Nick is our INSPIRISTA of the month, and he is one of the friendliest guys you'll meet! Nick is our gentle giant; he is well over six feet tall, but has the kindest voice and most tender heart. 
Nick is one of our trainees that has been with us since the beginning (ONE YEAR). His dream is to be a farmer on a beautiful Wisconsin farm, and work with tractors. What a great aspiration!
Nick loves to host and welcome people as they come into the coffee shop. And has recently become a barista! Great job, Nick! He is a BIG FAN of trying all the new drinks – he might even recommend a drink or two, if you ask him.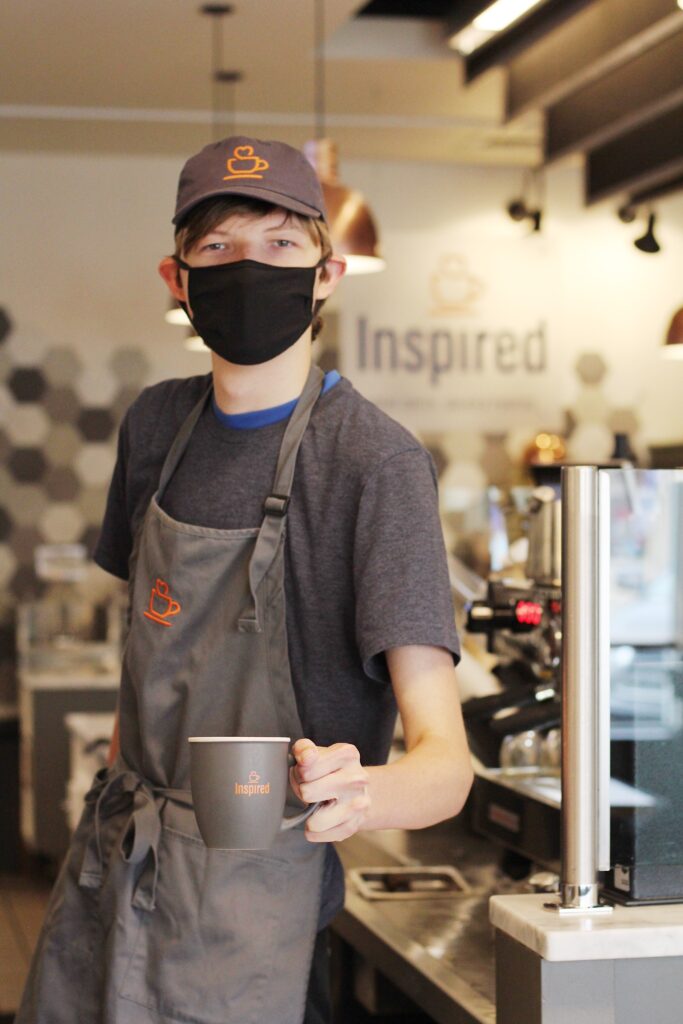 MORE ABOUT NICK:
What excites you most about working at inspired?
Keeping the coffee shop clean. Getting to know my co-workers and learning to make drinks! I love learning new things. Inspired's merchandise!
What inspires you?
Meeting new people. It's inspiring when people are kind and in turn, I love making customers smile. My goals in life!
Who inspires you?
My supervisors and the customers. MJ (from Hummingbird Bakery).
What is your favorite Inspired beverage?
White Chocolate Mocha Latte!
What do you like most about working at inspired?
Inspired's community and the fun drinks!
To see how far we have come! My co-workers, I'm glad to watch everyone achieve their goals.
Nick is a special, one-of-a-kind human, and we are so grateful to have him with us here at Inspired Coffee shop!